(Last Updated On: January 10, 2018)
Looking a for a complete guide on how to reupholster a couch or sofa? Regardless of how many exclusive furniture you have in your home, your couch is one extraordinary piece amidst all of them, you might want to give some extra credits to; especially when it comes to giving comfort in your leisure hours. Be it in your living room or bedroom, fitting yourself inside that comfy couch with the espresso mug and magazines in hand or in front of your television set has relieved you from half of your day-long stress. Lying back on this seat, plotting your life may have been a favorite pass-time for most of yours on weekends. Being the most cherished, your couch is also one of the most used furniture among all the others in your gathering. From your pajama parties to your assignment deadlines, it has to go through a lot and thus, over the long haul, it gets exhausted and henceforth needs recuperation.
How You can Reupholster a Leather Sofa
No matter how carefully you handle it, the original upholstery leaves its glitz behind after a certain time frame. It becomes stained, grimy or sometimes gets so old that the fibers worn through. Most of you, at this point think of replacing your old one with a new purchase. But, if the structure or framework of your couch is still intact and strong enough, re-upholstering is a better idea than recovery saving both your time and money. Leather couches make top on the list and here are some ways you can re-upholster leather couch rather than replacing with a new one. This might seem a little troublesome at the beginning, but we are here with some great ideas to make it easier and more interesting for you.
Most of our sofas and couches are designed in a way to allow easy re-upholstering. Leathers are very comfortable and elegant, but at the same time more prone to getting wrinkled over time. Cracks and holes then appear along with dullness. This can be primarily treated with stitches and tags so that the rip does not grow bigger until re-upholstering the old frame which can ultimately give the old piece a new life.
Removing the upholstery is the first step you should take. Tools like needle-nose pliers or a screwdriver can be used to pull out the staples in order to remove the old covering. The seam ripper can help you to get rid of all old upholstery before you start working with the new one. If the upholstery you are trying to get off is tough or thick, then electric scissors can be used as well. While doing so, try not to tear the old leather apart as well as other filling materials which can be used as stuffing later on. Take pictures before and while unraveling if possible to provide you with a useful guideline afterwards.
Use the discarded cover as a template to guide you through while cutting the new leather. Use electric scissors here too to ensure maximum perfection. Be very cautious with the measurements as leather is quite an expensive material. Don't forget to keep the room for sewing if any required.
Turn the stripped couch upside down and begin with your reupholster. Drape the new leather on your old couch and staple. Use sledge hammers and nails to pull the cover firmly over the frame and avoid any lump formation. Flip the couch upright. Wrap every nook and corner of it and staple properly. Sew the edges or close the openings with tape. We can sew the leather or upholstery fabric, before just after cutting it to get rid of uneven edges.
Transformation of your old leather couch into new one following these re-upholstery steps will be very easy and economical and you can these all by yourself, without any labor cost!
Further, you can read the sofa reupholstery guide of Jennifer Bridgman who is the writer of the blog The Chronicles of Home where she writes about decorating home furniture or other things, different home projects, and redos of trash-to-treasure furniture.
How You can Reupholster a Sectional Couch in a Trendy Way
Sectional furniture are trendy updates in this era of advancement and sectional couches are no different. They come with great design, customizing facility and are easy to use and clean. You can design your own set of furniture, assemble and disassemble them as per your will and give them a new look whenever you want. Getting old is not a common option for these modern day couches/sofas, but the upholster may get worn out upon time depending on the fiber it is made up of. Damage in any particular part of the couch will not require a total recovery but small scale reupholster would do it all.
At first dismantle all the sections of your couch and set them aside. It's better to start your working on each piece at a time. Some common upholstery tools such as hammer, seam ripper, electric scissors are used. Sewing machines and thread sewing pins are optional and only required if you have the skill and plan of sewing in the process.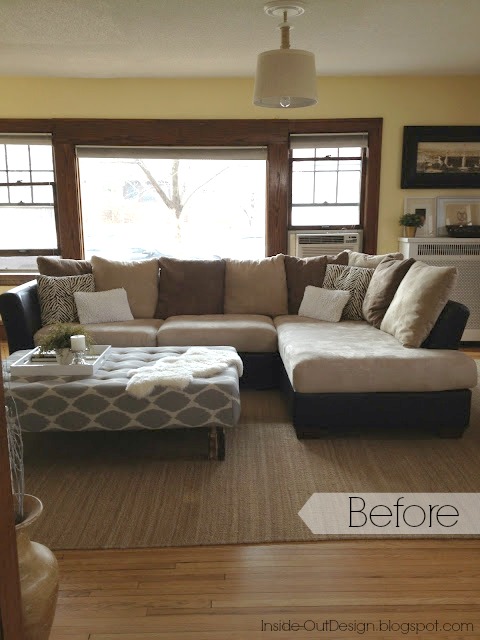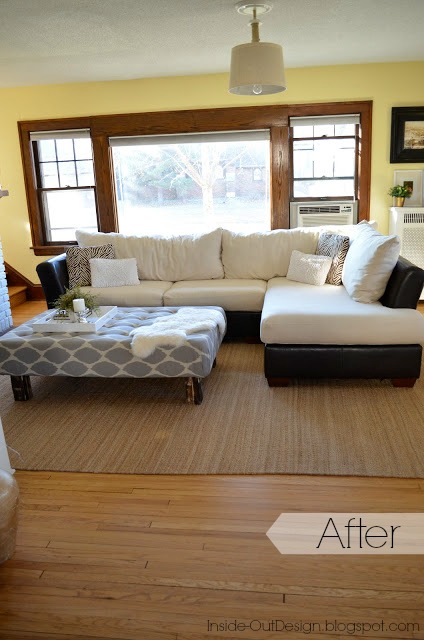 Get rid of the old cover, but keep in mind to not tear it apart so it can be used as a pattern during the new set up. Taking photographs or video taping before and during the process can ease your task. Check for any stains or dirt inside and carefully handle the stuffing materials. Electric scissors should be used as they tend to cut the thick fibers with more perfection over hand scissors. Cut the new fabric, keeping resemblance to the old one. Taking correct measurements is crucial as a small mistake can cost you the whole again. Start with a flat surface, laying out your new fabric cover over the sections from where old coverings were evacuated. Pin the points of attachments. Sew the corners, openings and edges if necessary. Working on one piece at a time, hold the texture rigid, keep it taut and staple consecutively to avoid bubbles. Do the back and sides to begin with hiding any staple marks with overlapping of the cover.
Sectional lounge chairs can be reupholstered regardless of the possibility that they are not harmed enough, sometimes just to give your house a new look. Another advantage is that you don't always need to change them entirely yet only changing a single piece would do if required.
How You Can Reupholster an Antique  Sofa as for Them Replacing is Never the Option
If you are a vintage or art-loving person, your house is most likely loaded with antique furniture. Vintage pieces are never out of fashion for some people and they hold an incredible aesthetic value. Antique couches are not something we can see in every store or house. So a small blemish in your beloved sofa makes you concerned and you do not generally have the instant option of replacing. Be that as it may, don't you stress as reupholster of your antique sofa is constantly conceivable and it isn't so much that troublesome as it sounds.
To start with the apparatus, you'll need: staple gun, upholstery tacks and magnetic hammer, Fabric, upholstery needle and thread fabric scissors. You'll also need upholstery tack puller/staple remover and lots of patience.
The first step is the most hectic, that is removing the old cover out of all the nails and/or staples and tearing it down to its no frills. Using the tack puller, pull out the decorative trim from both the front and back of your couch starting from beneath. Check for any nails remain protruding behind which may harm you or your new fabric. Take notes or click pictures and try not to hamper the old fabric as it can be used as a guide for the upholstery with the new fabric.
Your vintage couch is more likely to contain many stains, dirt and holes along with very old filling material inside. If the stuffing materials are too old you can change them, but this is going to cost you some extra money. Fill up any holes with filling material similar to the one existing. Clean the stains and dirt before enveloping with the new fabric. You can spray a little bit hydrogen peroxide because it chemically breaks down human grossness (urine, skin, blood). Use wood glue and clamps in case of any breakage in the body and make sure all the springs are working fine. Placing jute webbings above will help to keep the springs in appropriate shape and position. Put an even mattress above the webbing to build an even surface. If you use varnish and wood glue to give your couch a new glow you'll have to wait overnight to let them dry. Once dried, you can start embellishing your couch with new fabric following the old one as a pattern. Be careful with the measurements when cutting the fabric, staple them over the spring, under the seat and all around the couch.
Your antique couch is ready to stun you with its new look if you have followed our indications step by step. You can also read the antique sofa reupholstery guide of Remodelicious, there writer nicely described how he bought an antique sofa and reupholstered it to give it a perfect look.
How You can Reupholster a Sofa without Sewing
Say 'Hi' to 'no sew' techniques when you reupholster your couch. As you know by now, you neither need to buy a new couch every time nor you need to have extraordinary sewing skills to redecorate your couch. Reupholstering your couch is one simple option and here, in this article, we have come up with various easy and home-friendly techniques that will make your life easier. Here, I am going to talk about how to reupholster your couch without sewing. Best results can be obtained if you replace the entire foam of the couch with new ones. Buy quality upholstery foams  from nearby market or order online. Check the foam thoroughly for any dirt and bugs before receiving the order. Purchase the foam according to your measurements or buy stacks of them and cut through as per your need. Placing the foam in your sofa structure gives it a definite shape which makes it simpler for you. Foams of good quality and high density should be used to make your couch long-lasting and suitable enough to conceal the staple marks later.
Now it's time for your new fabric to come and take over. Keep on our mind few factors before picking up your new fabric. It should be light for your ease of handling and comfort, yet firm enough to not get worn out easily. It should not be very expensive because you are going to need some extra inches as sewing is not an option here. Muslin is an appropriate example of fiber for these purposes.
Cut the fabrics beyond the measured length as the extra portions will come in handy while hiding the pins as well as while tucking and stapling the cover as you are not sewing. Cut the middle piece such that enough fabric is left to cover the back and front of your couch. Tuck into the foams where possible closing the edges with tape. Pull your fabric tightly behind the seat and keeping it taut, staple it on wooden frames. Try to staple as close to the bottom and up underneath in order to hide the staple. Scrape off the excess fabric and use it later if needed. Make sure no raw edges remain showed up. Arms are the most difficult site to work on here. If you are an expert, you can make designs and pattern there using tapes and staples absolutely without any touch of the needle. But make sure you do not put any staples, pins or tapes visible on the front side. The end of folding and tuck in should be placed in a way that does not catch your eyes of a viewer. Cardboard tricks can be used in the arms and other round edges for a perfect shape. Use cardboard trick on the backside too, and cover the boards with sheets of fabric neatly.
Following these few steps you can easily reupholster your old couch without sewing. Try it at your home and you'll soon realize you don't need to be an expert in doing this.
Furthermore, you can read  an article about 'How to reupholster a couch without sewing' on Four Generations One Roof LLC! , where writer Jessica nicely described how she reupholster an existing couch without sewing using an old Pottery Barn slip cover.
How You can Reupholster a Couch without Removing the Old Fabric
Buying a new fabric can be expensive as well. Your couch does not necessarily always need a new piece of fabric material, but grooming the old fabric can be enough to give it a new look. You can give your old covers a thorough wash or dry clean wash to remove any stubborn stains and dirts. If not at home, washing those covers from a laundry may give better cleaning effects. Cleaning can give them back their long-lost glow/glitz. Also adding some borders or laces to the old cover can easily give it a new and trendy look.
Cushions are a prime part of your couch. They accentuate the features of your couch, enhancing their beauty, comfort level and give them a better look. Any changes in the cushions can affect the entire look of your beloved sofa. You can change the cushion cover for a change. Use contrast of colors, as in, if the color of the seat cover is pale/light, use dark colored cushion covers in contrast and vice versa. If your couch is a trendy one, you can use glossy or theme-based cushion covers to give your couch a retro look. You an also change the shape of the cushions. Buying a couple of cushions will cost you less than buying lengths of new fabric, but you can save your money if you are an expert at sewing. Give your old cushions some new designs and patterns in order to give them a new look. If you are into arts and crafts, work on the bare wooden surfaces of your couch. Adorn your couch with crafts and design that adds up to give some extra glitz.
Simple changes in their surroundings can conveniently give your couch a new touch. You just need to have an innovative mind to look through.
How You can Reupholster a Couch with Attached Cushion
Couch with attached cushion? Reupholster needs some extra effort. You might have not come across the drawbacks associated to sofas with attached pads or cushions while buying them, but reupholstering these couches may give you a tough time. Cheer up as this particular category is going to answer every question you may come across while redecorating these couches.
What you need to do is sew the pads with the front band as one major unit. Next sew a few pulls onto the sides and back. Stuff the pads and get them how you need them to look. Connect the entire thing to the deck and edge of the couch. Restore the inside back, front, arms and lastly the back. Flip the sofa over and attach the dust cover on and you are done.
Reupholster of Couch Cushion
For smart homemakers, upholstering couch pads is an assignment for an unwinding evening. You can change the look of your whole room by introducing new shades, patterns, designs and crafts to the cushions on your lounge chair. Choose a fabric strong enough to withstand the wear and tear a sofa normally receives; thin, flimsy fabrics that rip and tear easily are better used on throw pillows than on the sofa cushions.
The common first step is to take out the old cover. Unzip the old covers carefully if your cushion covers have chains as you'll need them as a template while sewing the new ones.
Take a colorful removable chalk and draw an approximate shape and design on the new fabric. Fold the piece of fabric into two layers. Put the old cover on the folded fabric and mark on the edges for approximate measurements. Cut the folded fabric according to your measurements and put it under the needles of the sewing machine. Pull straight towards a direction according to your planned dimension. Sew your covers neatly so that no uneven surface or lumps remain. Remember to keep space for zip if you want them in your cushions. Sew the zip to your new cover at the end. Before putting on the new covers on your old cushion, check thoroughly for any flaw in the padding of the cushion. Fix any wear and tear in the stuffing and put on the new cover.
Your cushion covers are read and your recovery process is done!
Which Fabric is Best for Couch or Sofa Upholstery?
Now, where should you invest your decorating dollars. Choosing the best fabric for your sofa
The texture and design of an upholstered piece are the most unmistakable indication of value and style. While picking up fabric for your couch, you ought to consider some factors like its durability, cleanability, and resistance to soil and fading. We are going to help you with some basics that'll aid you in purchasing the right kind of fabric for your couch.
When buying upholstery fabric carefully notice the thread count as higher the thread count, the more tightly woven the fabric is, and the better it will wear. Thread count refers to the number of threads per square inch of fabric.
Some common fabrics:
Natural Fabrics
Linen: Linen is most appropriate for formal family rooms or grown-up zones since it soils and wrinkles easily. Not a good choice against wear and tear, but Linen cloth resists pilling and fading well. When gets dirty and stained, these linen covers must be cleaned in a professional laundry to avoid shrinkage.
Leather: Leathers are tough material. They can be gently vacuumed, damp-wiped or washed leather conditioner or saddle soap as needed.
Cotton: Cotton is a common natural fiber that gives great imperviousness to wear, blurring, and pilling. It does soil, wrinkle or catch fire easily, but certain processes and mixing with strands of various other fibers frequently offer reparations for these shortcomings. These mixed fibers are often called cotton blends. The better the weave and finishing of the fiber the more durable and user-friendly it is. Damask weaves are formal; canvas (duck and sailcloth) is more easygoing and more strong.
Wool: Durable and tough,wool offers good resistance to pilling, fading, wrinkling, and soil. When blended with a synthetic fiber, it becomes more user-friendly and easier to clean. Blending also reduces the possibility of felting the fibers (causing them to bond together until they resemble felt). Blends can be spot-cleaned when required.
Vinyl: Being more affordable than leather, vinyls are perfect for the lounge areas of busy nowadays because they are easy to clean and, when of good quality, they are durable enough.
Silk: Silk is a delicate fabric mostly suitable for places such as formal living rooms, places usually occupied by adults. It is better to professionally clean this fabric if soiled.
Synthetic Fabrics
Acetate: Acetate, a synthetic fiber developed as imitation silk, can withstand mildew, pilling, and shrinking. Be that as it may, it offers quite reasonable imperviousness to soil and tends to wear, wrinkle, and blur in the sun. It's not a decent decision for furniture that will get extreme ordinary utilize.
Acrylic: Made as imitation of wool, these fibers resist wear, wrinkling, soiling, and fading. Low-quality acrylic may pill excessively in areas that receive high degrees of abrasion. Top notch acrylics are manufactured in a way so that pill occurs significantly less.
Nylon: Rarely used alone, nylon is usually blended with other fibers to make it one of the strongest upholstery fabrics. Nylon is very resilient; in a blend, it helps eliminate the crushing of napped fabrics such as velvet. It doesn't readily soil or wrinkle, but it does tend to fade and pill.
Once in a while utilized alone, nylon is normally mixed with different strands to make it one of the best upholstery fabrics. Nylon is extremely flexible; in a mix, it helps eliminate the crushing of napped fabrics, e.g. velvet. It doesn't promptly soil or wrinkle, yet it tends to blur and pill.
Olefin: For furniture that will receive heavy wear Olefin should be the first choice as it has no pronounced weaknesses.
Polyester: Rarely used alone in upholstery, polyester is blended with other fibers to add wrinkle resistance, eliminate crushing of napped fabrics, and reduce fading. When blended with wool, polyester aggravates pilling problems.
Rayon: A strong and long-lasting fiber developed imitating silk, linen, and cotton. However, it wrinkles. Recent developments have made high-quality rayon more useful.
Some Special Consideration before Opting for the Finest Upholstery Fabric
Like we know our choices regarding how we decorate our houses reflects our personality. We gravitate more in using upholstery furniture to embellish our houses. And we often find ourselves in the welter of contretemps of finding the right upholstery fabric. The wrong fabric and all efforts in vain. There are boundless options to choose from a fabric's pattern, color, type and so on. So you need to watch over the factors to choose the best one that would complement your house.
Longevity
Durability of fabric plays a vital role in choosing the best fabric. Changing a fabric and metamorphosing a furniture can be onerous. So it's liable to use such a fabric since the beginning that can be used in the long run. For instance, if you have a busy household with keeping the stork flying or pets or someone who is prone to spilling things, then polyesters and nylons are your thing. Heavy weight fabrics like leather, woven wool, tapestry are ideal in such case as these can resist tears and repulse any stains. Light weight fabric might look to be of much aesthetics. But there's always more to the surface. Such fabrics might wear out faster so sidestep light weight fabrics like silk, linen.
Color
You need to look out for a color that would suit the house décor since the color is what everyone would notice at the first instance. It is usually a wise idea to keep the color subtle like white or grey because "Simple is elegant". You should ornament gigantic furniture with classic or neutral colors. This will always be on trend. Try avoiding vibrant colors so that it isn't dazzling to others eyes. However, even if you intend to use bright color, then there are smaller furniture at your service.
Style
You should choose patterns those will highlight the material the fabric will be dissembled within. For an illustration, if it's a larger material like sofa, you can opt to use bold patterns with different floral or tribal prints or straight lines. For smaller piece like chairs you can use simpler patterns with less dimensional texture. Nevertheless, you should not put larger patterns on small materials and reciprocally for the smaller pattern. But you have to make sure that the patterns in both large and small materials are of accurate size as the materials. If the edges are not of an appropriate angle, the beauty of the product as a whole would fade away.
Specialties
Apart from these, there are some special fabrics those can be kept in consideration. Chenille fabric for example, can provide beautification and durability. You can consider microfibers as it is lint free and dust free. Now that's a relief since you wouldn't want to wipe out the dust again and again. Fabric like Sunbrella can withstand fading, mildew, water and soil. So if you live in place with hot weather and looking for something suitable, Sunbrella fabric it is.
How Do You Cover a Couch
Many people choose to cover sofas that are old and show signs of wear and tear; others do it to protect their couches from pets or dirt. It's also common to make a cover to align your sofa's decoration with the rest of a room's décor. Whatever your reason, learning how to cover a sofa is an easy project that you can finish in a few hours.
Dust and debris are necessary side effects you want your furniture to keep away from. There are many stain guard products out there made specifically for upholstery that you can spray on to create a protective coating that repels stains and liquids. You can also opt to have this professionally done to your existing couch.
A slip cover will fit over your entire couch and should anything happen, such as a spill or a nose bleed, it will be the slipcover that will be stained and not your furniture! Then, you can remove the slip cover, treat the stain and throw the entire thing into the washing machine.
If you don't have a slip cover, you can use a sheet to cover the seat cushions and a throw to cover the back cushions. While not the most attractive option, it will still protect your upholstery somewhat from stains.
Cost to Reupholster a Couch
Before we get into the cost of reupholstering a couch, we should know what this process is. Upholstering is basically adding frames, fabrics, paddings and other materials which, in case of a sofa, is something that upholds it in term of comfort and texture. In this situation we are talking about reupholstering a couch which means the couch can get a whole new look, from springs to textiles. However, there is usually a price to pay and that is the cost itself
Estimated cost of upholstery
Usually, when you buy a new sofa it may cost a few thousand bucks. But you can get a far more better deal, cheaper than that same price if you spend them on reupholstering a sofa in your place. Perhaps the best part of upholstering a couch maybe the fact that you get to add extra lives to your beloved sofa. However, it can vary upon the upholsterers. It may end up costing near to the price tag a sofa at stores is tagged with. Therefore, it should be double checked with the dealers to see how much they want to be paid with. Based on fabrics, framing etc they use, it is estimated to cost around 650 dollars on a national average. The lowest can go around 150 dollars and the highest maybe over a thousand buck.
Cost of repairing frame
The upholsterer will try his best to make the sofa sturdier than before and it may cost more if there is any need for repairs such as the frame. Repairing a couch frame depends on the type of material which has been used to create the skeleton of the sofa. On a basic scale, it usually costs less than 200 bucks and the highest it can go is around 500 dollars. It may drop to two digit value if the frame requires less attention.
Cost of updating cushions and fabric
There may be expenses for fabrics and tools for sofa coverings and cushions. Normally it takes less than a hundred dollar but these updates depend on fabric quality and better the quality, the higher the cost. These mainly go for old sofas; vintages and they need to be handled with care. The result is usually satisfying and you might feel the old touch even over shining new fabrics.
Cost of labor
In terms of labor, it all depends on the upholsterers' knowledge and the amount of time they use. As mentioned above, they will know what they will want for your sofa and they will work hard to bring these sofas to a new life. Therefore it costs a bit higher when it comes to labor.
On the other hand, new sofas who undergo this process is usually not required but there maybe be some who wants to adjust to how they want to see it and this is mostly costly as a brand-new sofa has a wide price range. If you firmly believe that your years old sofa is ready to go for a run for another few years, you should confidently make your sofa undergo this process. If you think your sofa needs a new look to match with your environment, do it. Nobody can know a fixture better than their owners!